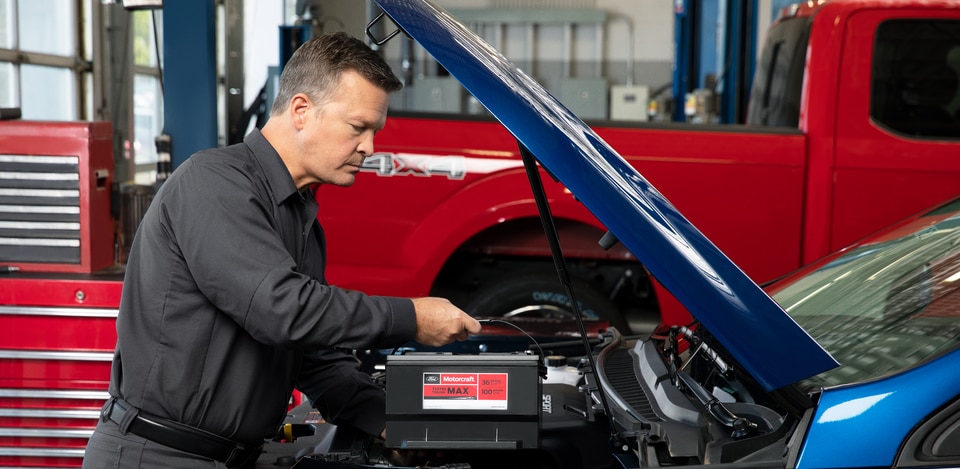 Keep Your Ford Running at its Best with the Service Center here at Bushnell Ford!
At Bushnell Ford, we do not just simply stop serving our customers from Lodi, Sun Prairie, Waunakee, DeForest and Prairie du Sac, WI once they have bought a vehicle from us. After we assist you transition from auto-shopping to auto-ownership, our next priority then becomes maintaining the health of your recently purchased automobile, so it can run in optimal condition for as long as possible! Our great service center here at our dealership is made up of an awesome team of hard-working and experienced individuals who are committed to their craft of servicing cars. These technicians have undergone extensive training and work closely with all sorts of vehicles on a daily basis. Regardless of if you have a new Ford or a pre-owned automobile, our technicians have you covered.
Big or Small, We Will Handle Any Job
It is important to pay attention to the minor details when it comes to the health of your vehicle. Regular maintenance tasks may seem minor, but they sure can cost you further down the road if you overlook them. We can work with you to address all of these basic-level tasks and even create a vehicle maintenance schedule with you! Of course, we are well-prepared to handle major repairs as well, such as the comprehensive ones required after an unfortunate collision. Or, if you simply need a check-engine light diagnosed, we're more than happy to do that as well. Regardless of your situation, we will get you safely back on the road in no time! You'll enjoy peace of mind knowing that you received quality service from a reliable dealership for a fair price.
Oil Change
Your car needs an oil change every 3,000-5,000 miles or quarterly throughout the year. Our technicians place a sticker that indicates when you need to have your vehicle serviced again.
A professional technician will ensure that your car receives the proper grade of oil. Using the right oi grade prevents damage to the engine and keeps hydraulic components intact. Oil changes are crucial and inexpensive maintenance, preventing costly damages to your vehicle.
Oil changes are important for many reasons. The oil helps to keep thousands of engine components lubricated. The vehicle's oil gets dirty over time which renders it ineffective. A technician will remove all of the old, dirty oil and replace it with the fresh oil of the right type.
Never skip an oil change. It causes warping of engine components and the engine runs less effectively. The engine will inevitably shut down if the oil is never changed.
Optimize the performance of your Ford truck, SUV, or car with a timely oil change. Even if you have a newer model vehicle that can go longer periods without an oil change, they're still required.
No matter how technologically advanced your car is, its functionality depends on regular oil changes. Our technicians use the highest industry standards to complete your oil change quickly and efficiently.
Battery Service
Most batteries have a lifespan of three to five years. All car batteries are different and the type needed for each car varies. The battery is also in a different location depending on the type of car you have. Installing the wrong type of battery on your car can have significant adverse effects.
Batteries can fail out of nowhere, often not giving you a sign of what the problem is. However, it's normal for a battery to eventually fail and it's a common reason why a car won't start.
Gradually and slowly, batteries lose their ability to hold their charge. Battery service will ensure that you maintain electrical contact that the car needs to function properly. Corrosive, caked-on elements need to be removed from the terminal surface. Adding protective pads can help reduce corrosive buildup.
Battery service involves testing your battery and replacement if necessary. One sign that your battery is getting old is if it's taking a long time to crank. If you smell rotten eggs near the battery or if there is a check engine light, you definitely need battery service.
If you have a bad cell in your battery, it leads to internal failure. If this is what you're dealing with, you'll find that you have to jump your car each time you drive.
Both hot and cold extreme temperatures also help drain your battery. If you're wondering the last time your battery was replaced, the month and year may be indicated on a sticker on the battery. Needing jump-starts more frequently is also another sign of a dying battery.
Brake Service
Hearing grinding and screeching when you press the brake pad is a clear sign that your car, truck, or SUV needs brake service. If you hear a bad noise coming from your brakes, brake replacement service in the DeForest area might be necessary.
If your brakes sound terrible when you use them, your brake pads may have completely worn down. Once you've worn down your brake pads, you could be completely destroying the brake rotors and possibly other parts, which will make your repairs more expensive.
The sound from squealing brakes comes from the steel pin indicators wearing down. Schedule an appointment for brake service at Bushnell Ford in Lodi if you continue to hear the squealing.
If the brake calipers stick together, it causes them to remain partially engaged and leads to unnecessary heat, friction, and squealing. This is called glazing because the heat causes the brake pads to crystalize, or glaze.
Your brake pads are held together by anti-rattle clips. If these clips break, it leads to squealing. Brake pad insulation that has completely worn out will also squeal. As soon as you hear these sounds, book an inspection for your brakes.
Grinding is an indication that there is something significantly wrong with the brake system. The grinding sound could be from something small that has become lodged in the system, such as debris, a pebble, or some other obstruction. In some cases, the obstruction just needs to be taken out.
If you're experiencing jerkiness when you stop, this is an indication that you need to have an inspection of your brake system. With brake service at Bushnell Ford, you get an evaluation of the system, replacement of brake shoes or brake pads, and you may need your rotors or drums resurfaced.
Replacement of these parts is critically necessary if you expect your brakes to last a long time. The lifespan of your brakes is significantly shortened by contaminated brake fluid.
Alignment Service
Your car's alignment or lack thereof has a major impact on the overall health of your car. When a car is out of alignment it causes the tires to wear out unevenly. If the car is off-center it causes difficulty with steering.
Vehicle misalignment can completely ruin a new set of tires. Misalignment increases the likelihood of accidents and tire damage. A car can become off-center, impacting something on the road such as hitting the curb or a pothole. If your vehicle vibrates too much, this is an indication that you could have a balancing issue and your car needs an alignment.
Wheel alignment increases fuel efficiency and increases the life of your tires. Your wheel alignment should be checked by a professional on a yearly basis or every 10,000 miles. Ignoring misalignment causes further damages.
If your car needs alignment, the signs may be hardly noticeable or very obvious. Here are a few signs that your car needs wheel alignment:
Crooked steering wheel
Difficulty handling
Driver-assist systems not functioning
Irregular wear on tire tread
Tires are designed to roll straight. Misalignment causes you to drive on the shoulder of the tire, prematurely wearing it down. If your car pulls to one side or the other instead of going straight ahead, this is a clear sign that you need wheel alignment service.
The pulling or dragging causes your car to consume more fuel. Count on our technicians to get your car running smoothly again. Your car will handle better and become as easy to drive as it was designed to be. Wheel alignment service is tailored to your vehicle's issues.
Alignment service includes checking your tire pressure, steering systems, suspension, and the condition of your tires. Wheel alignment improves the safety of the driver and passengers and gives you greater control over your driving. As a part of alignment service, our technician conducts a computer analysis of your alignment to restore it back to factory condition as closely as possible.
Schedule Your Service at Bushnell Ford in Lodi
When your Ford vehicle needs service in the Prairie du Sac area, contact the certified professionals at Bushnell Ford! If you have been putting off any sort of servicing for your automobile, we encourage you to stop by our service center. Bushnell Ford is conveniently located at 205 S Main Street in Lodi, and we proudly serve the Lodi, Sun Prairie, Waunakee, DeForest and Prairie du Sac areas of Wisconsin. Experience truly stellar auto-servicing here - you will wonder why you ever went anywhere else!
Your privacy is important to us.
Our Dealership takes your privacy seriously and does not rent or sell your personal information to third parties without your consent. Read our privacy policy.
Schedule Service
* Indicates a required field
Service Hours
Monday

7:30am-5pm

Tuesday

7:30am-5pm

Wednesday

7:30am-5pm

Thursday

7:30am-5pm

Friday

7:30am-5pm

Saturday

Closed

Sunday

Closed