Ford Service Center in Lodi, WI.
Keep Your Ford Running at its Best with the Service Center here at Bushnell Ford Inc!
At Bushnell Ford Inc., we do not just simply stop serving our customers from Lodi, Sun Prairie, Waunakee, DeForest and Prairie du Sac, WI once they have bought a vehicle from us. After we assist you transition from auto-shopping to auto-ownership, our next priority then becomes maintaining the health of your recently purchased automobile, so it can run in optimal condition for as long as possible! Our great service center here at our dealership is made up of an awesome team of hard-working and experienced individuals who are committed to their craft of servicing cars. These technicians have undergone extensive training and work closely with all sorts of vehicles on a daily basis. Regardless of if you have a new Ford or a pre-owned automobile, our technicians have you covered.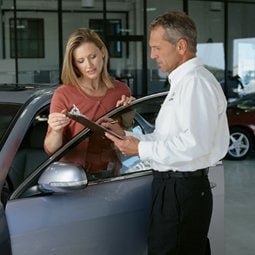 Big or Small, We Will Handle Any Job
It is important to pay attention to the minor details when it comes to the health of your vehicle. Regular maintenance tasks may seem minor, but they sure can cost you further down the road if you overlook them. We can work with you to address all of these basic-level tasks and even create a vehicle maintenance schedule with you! Of course, we are well-prepared to handle major repairs as well, such as the comprehensive ones required after an unfortunate collision. Or, if you simply need a check-engine light diagnosed, we're more than happy to do that as well. Regardless of your situation, we will get you safely back on the road in no time! You'll enjoy peace of mind knowing that you received quality service from a reliable dealership for a fair price.
So, if you have been putting off any sort of servicing for your automobile, we encourage you to stop by our service center. Bushnell Ford Inc. is conveniently located at 205 S Main Street in Lodi, and we proudly serve the Lodi, Sun Prairie, Waunakee, DeForest and Prairie du Sac areas of Wisconsin. Experience truly stellar auto-servicing here- you will wonder why you ever went anywhere else.